Inspired by an international festive tradition, we source a Scottish Christmas tree, strap it to a DB11 V12 and drive it to Autocar HQ in London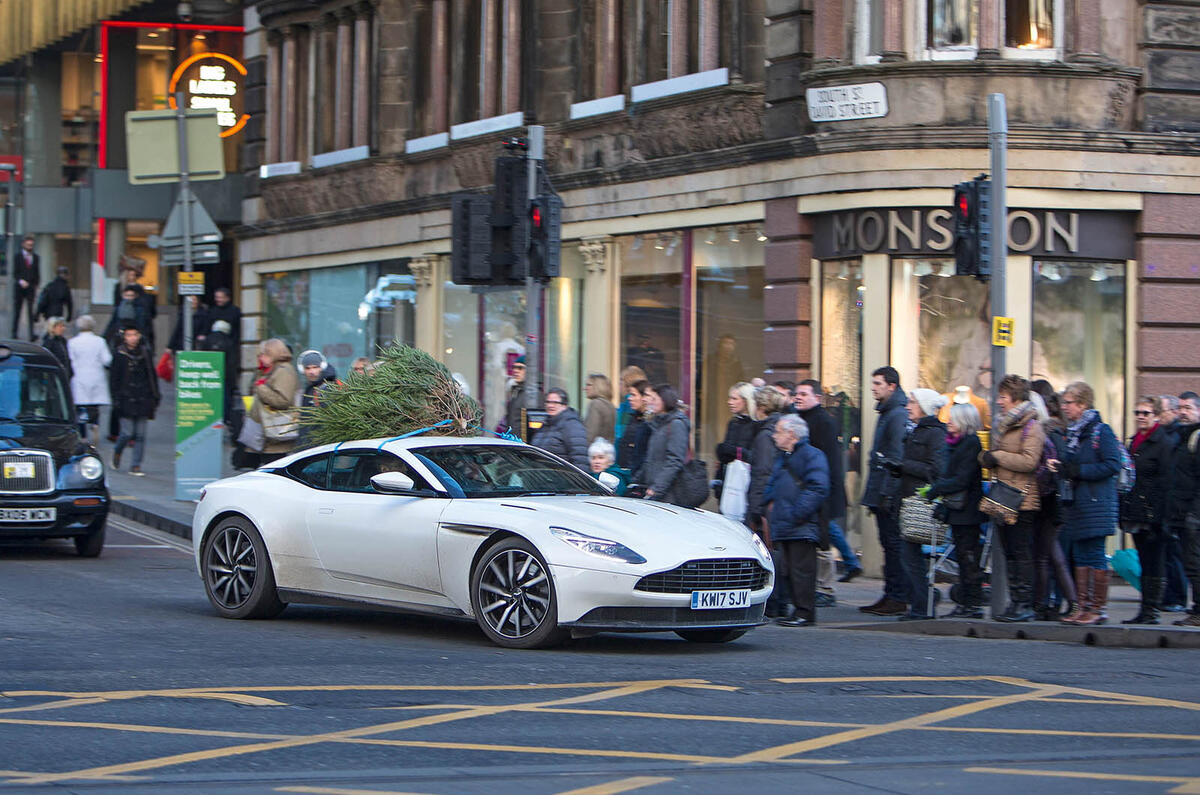 "Peace on earth and goodwill to all men," they say at this time of year.
And both peace and goodwill are sentiments celebrated annually when the city of Oslo donates a giant Christmas tree to London in recognition of our country's efforts during World War 2. This year we're celebrating that enduring tradition with a delivery of our own, transporting a Christmas tree the length of the country from Scotland's west coast to the Autocar offices in London, bringing joy and festive merriment to the editorial team.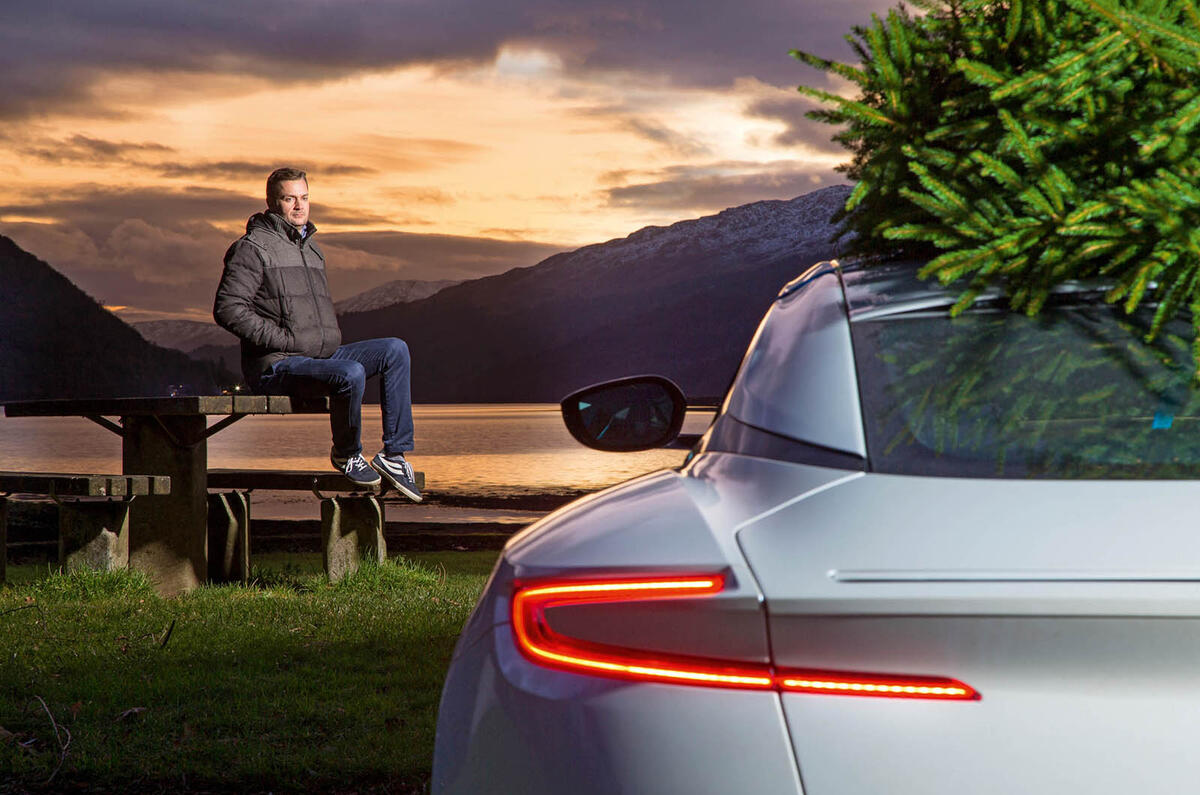 And what greater freighter for the task than our favourite British grand tourer, the Aston Martin DB11? It should provide some back-road thrills up north, then devour the motorway miles on the home run. Along the way, we'll stop by Immingham Docks in Lincolnshire to see how the professionals do it as the big tree from Norway gets loaded up before heading south. Even without the detours and general wombling involved in photographing such road trips, that's a respectable 550-mile journey.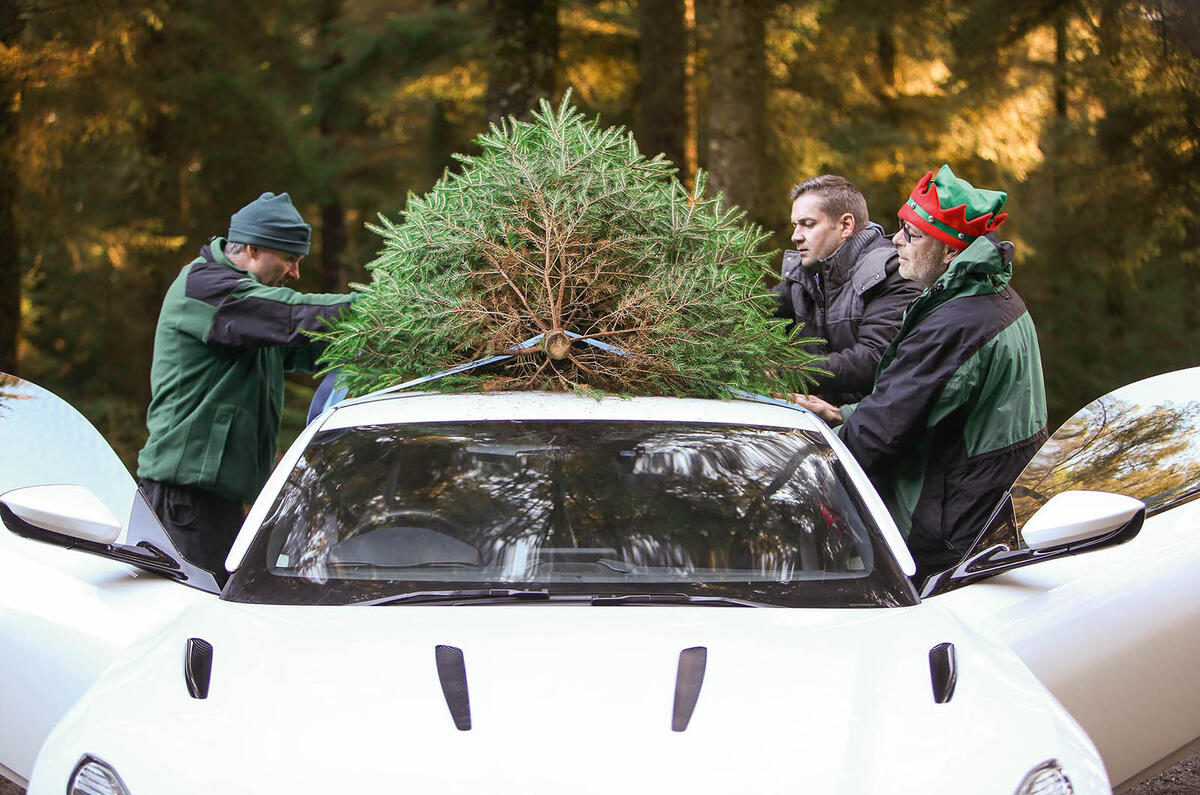 I know what you're thinking, though: the DB11 only has a 270-litre boot – sapling territory at best – and Aston isn't in the habit of selling roof racks. Online reviews of aftermarket 'soft' racks bear unwelcome titles such as "Stitching split" and "Kayak skidded down road", so those are out, too. But with protective film on the roof, £20 worth of ratchet straps from Screwfix and some padding, we're ready for action.
We begin at Argyll Forest Park's Glenbranter Estate, first leased to the Forestry Commission Scotland by chief gloaming-roamer Sir Harry Lauder. We're met by visitor services manager Sue Morris, who invites us to follow tree-wise men Andy Kerr and Stevie Cooper in search of our star conifer.
Our DB11 is the full-cheese 600bhp V12, whose £182,660 sticker price includes £3495 of Morning Frost White paint and £4740 worth of diamond-turned 20in alloy wheels. It couldn't be more incongruous following Kerr's van, smothering nature's sweet chorus as we burble past a sparkling burn and up a muddy track into shaded woodland.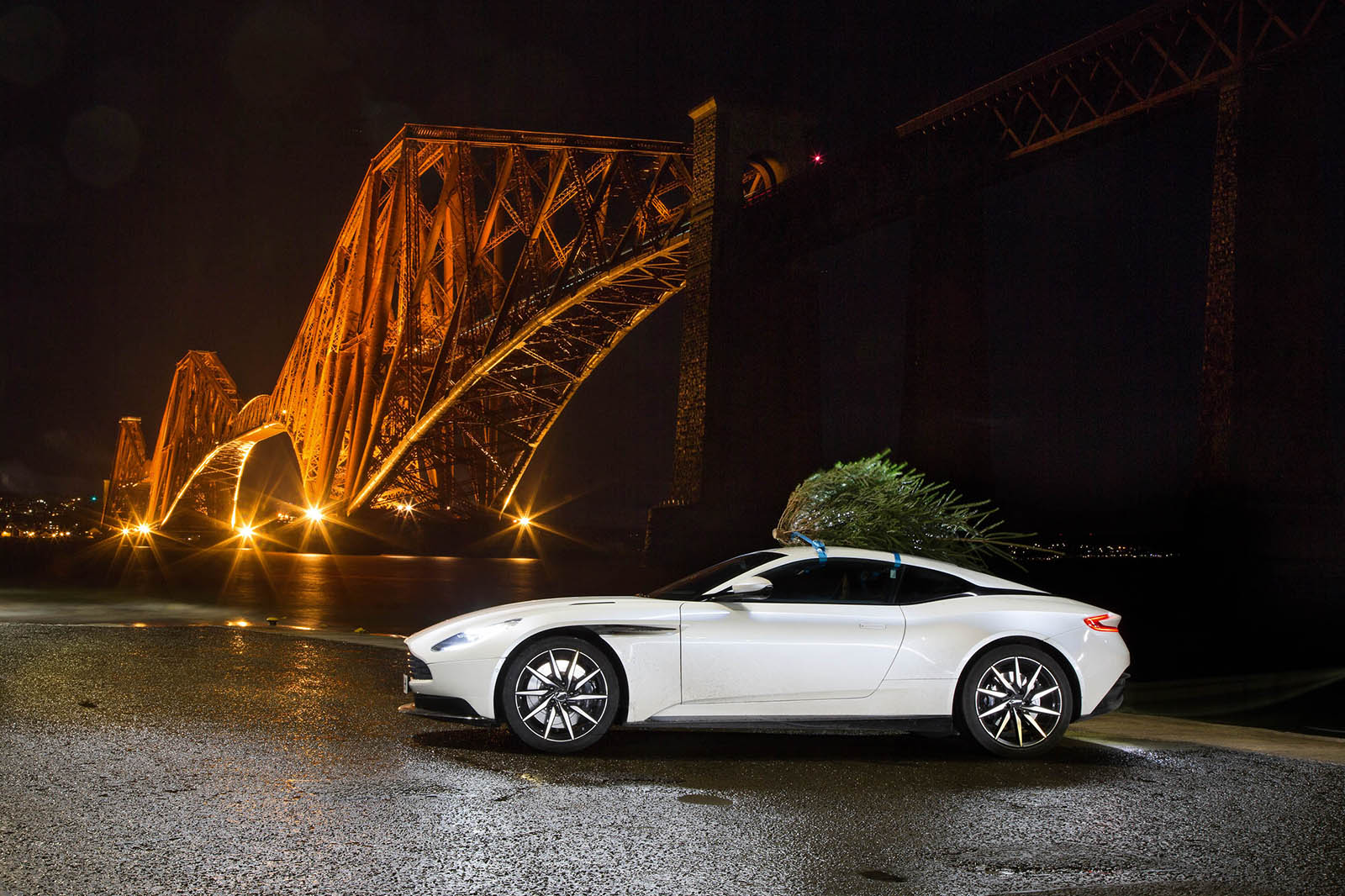 Then it's wellies on for a tramp into the trees, Kerr's tiny dog, Ness, leading us between enormous Sitka spruce on a plush carpet of bouncy sphagnum. Unlike the manually shaped, farmed Christmas trees you'll find in most homes, we're searching for one of the naturally occurring, free-range examples dotted around the estate's rugged expanse of almost 10,000 acres.
In an improbably perfect, sunlit clearing, we find what we're looking for: a fine, bushy, six-foot Norway spruce. I'm no expert, but this is one handsome tree.
Its counterpart from Oslo is perennially known as 'Queen of the Forest', so for commensurate regalness, and in honour of a fellow Argyll resident, ours becomes 'Robert the Spruce'.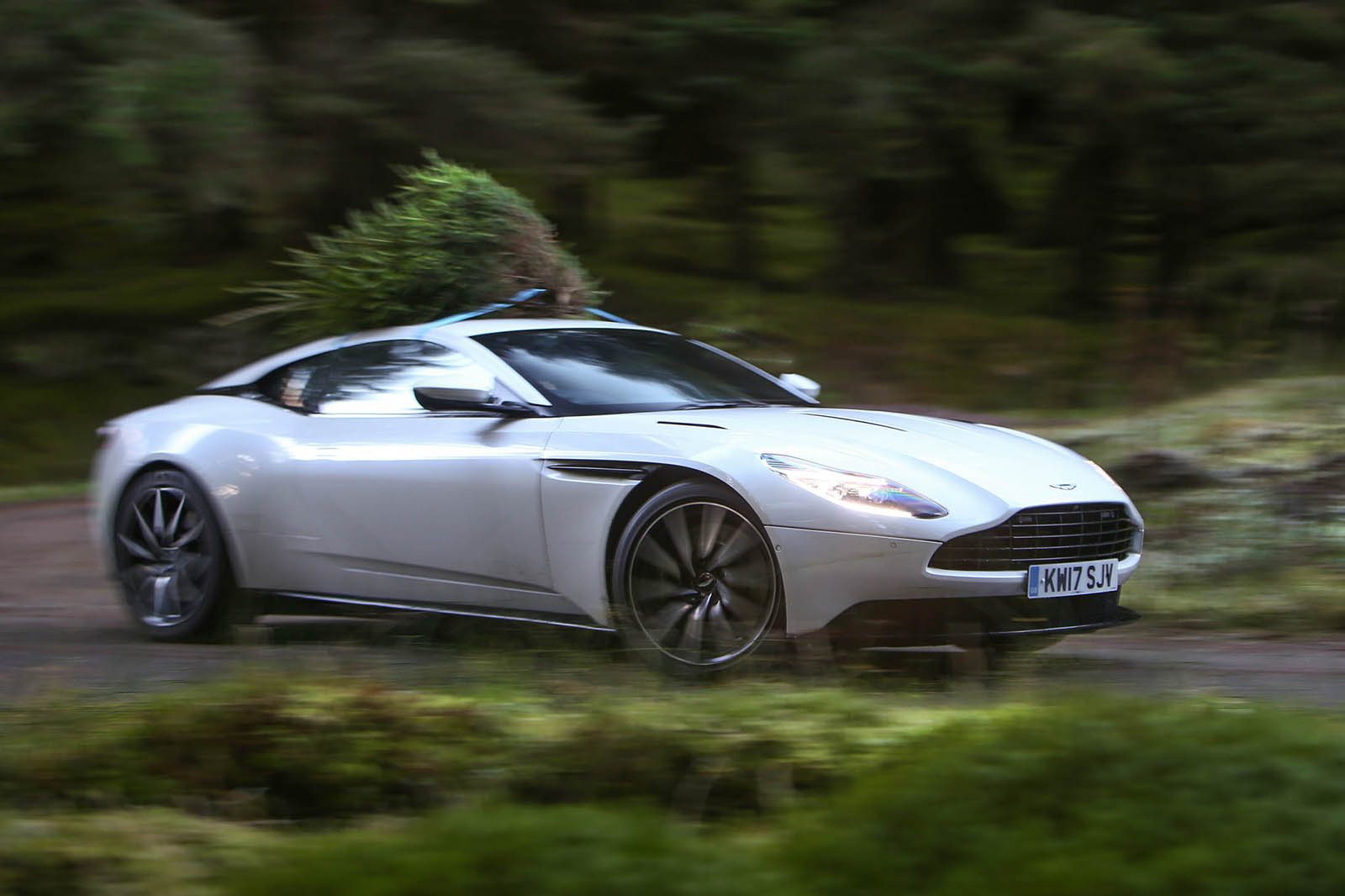 Above the DB11, we wrap the straps around the tree's trunk, its tip pointing rearwards for maximum aero efficiency. Kerr says it has faced plenty of hillside gales during its seven-year life but warns that one customer found his tree worse for wear after only a 110-mile drive to Edinburgh. Earlier suggestions to use a 'stunt tree' seem less frivolous now.
We woofle out of Glenbranter, but although the tree is secure, the straps vibrate above 40mph, droning like strings on a double bass. Photographer Stan Papior wraps the loose ends around the tensioned lengths to disrupt the airflow and the problem disappears. There's a little more wind noise than usual as the windows can't completely close, but it's perfectly tenable.
A greater weakness soon reveals itself: we're on Bridegstone Potenza S007 summer rubber, and with shimmering asphalt and a temperature hovering around freezing, the DB11's 295mm-wide rear tyres are struggling to convey even a fraction of its 516lb ft. With a judicious right foot, then, we press on to the top of Glen Croe.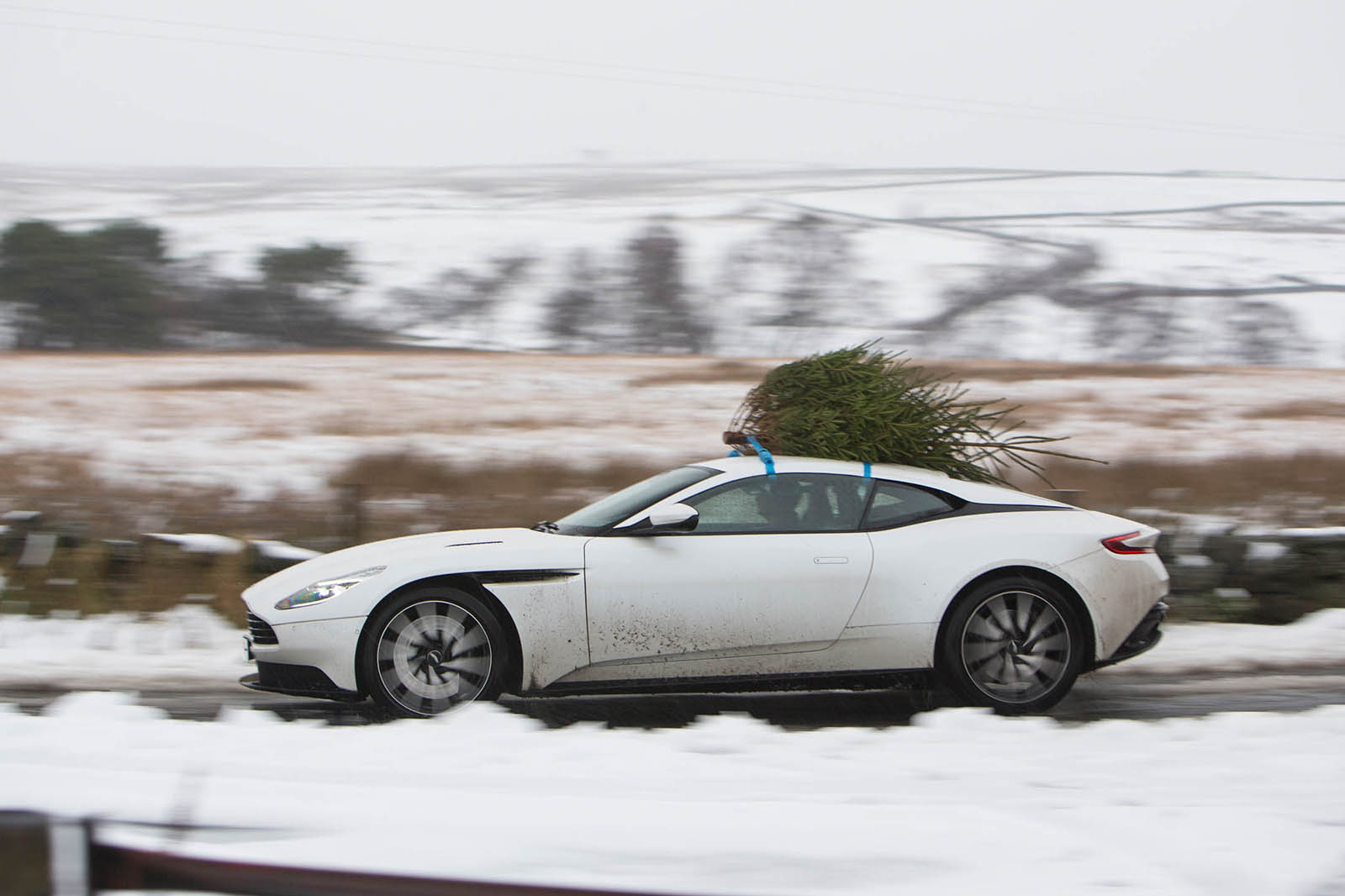 Looking south-east, we can see General Wade's 18th century military road snaking towards the valley floor. Now only open to the public when the A83 above it closes due to landslides, the road's construction is commemorated by an engraved stone that encourages travellers to 'Rest and Be Thankful', lending the viewpoint its name.
You'd never know it today, but the old road hosted regular hillclimb events – often sponsored by Autocar – until 1970, the likes of Jackie Stewart and Jim Clark tackling the 0.8-mile, 400ft-high course. Our DB11 has links to the place, too: a DB3, Aston's pioneering racer, won its class here in 1953. We may never again be treated to the sound of a Cooper Climax FPF echoing off these mountainsides, but the Rest and Be Thankful Heritage Project is planning to create a visitor centre with a motorsport exhibition here before too long. Here's hoping.
Before we leave, we meet our first flurry of camera phones. You'll always get attention in a DB11, but having a tree on the roof transforms it from mild appreciation to ringing endorsement, with a good helping of festive cheer.
We catch a dying sunset by tranquil Loch Long, and experience our first motorway stint closing in on Edinburgh. We feel gusting crosswinds a bit more than usual, but the DB11's almost limo-like cruising manner remains. The ride is brilliantly relaxed, the exhaust is audible but never drones and the eight-speed ZF auto 'box rarely needs to kick down, the turbocharged 5.2-litre V12 doling out pace at will.
We pause for a slipway photo by the Forth Rail Bridge, then it's into Edinburgh, where the DB11's low-speed ride continues to impress over the Old Town's Scottish pavé. There are festive illuminations below us in Princes Street Gardens, and somehow a hardy piper plays on in the freezing night. To hit twee-max, we sneak in front of Edinburgh Castle. A pair of tartan trews stride out of the portcullis: "Absolutely ridiculous," they exclaim in passing, "I love it!"
Next morning, Christmas shoppers in the New Town are equally enthusiastic – smiling, giving a thumbs-up and/or grabbing a snap. And despite the Aston's considerable 4739mm length, low, snug seating and seemingly endless bonnet, the easy steering, big door mirrors and standard-fit 360deg cameras make shuffling about the city centre on Papior's command a cinch.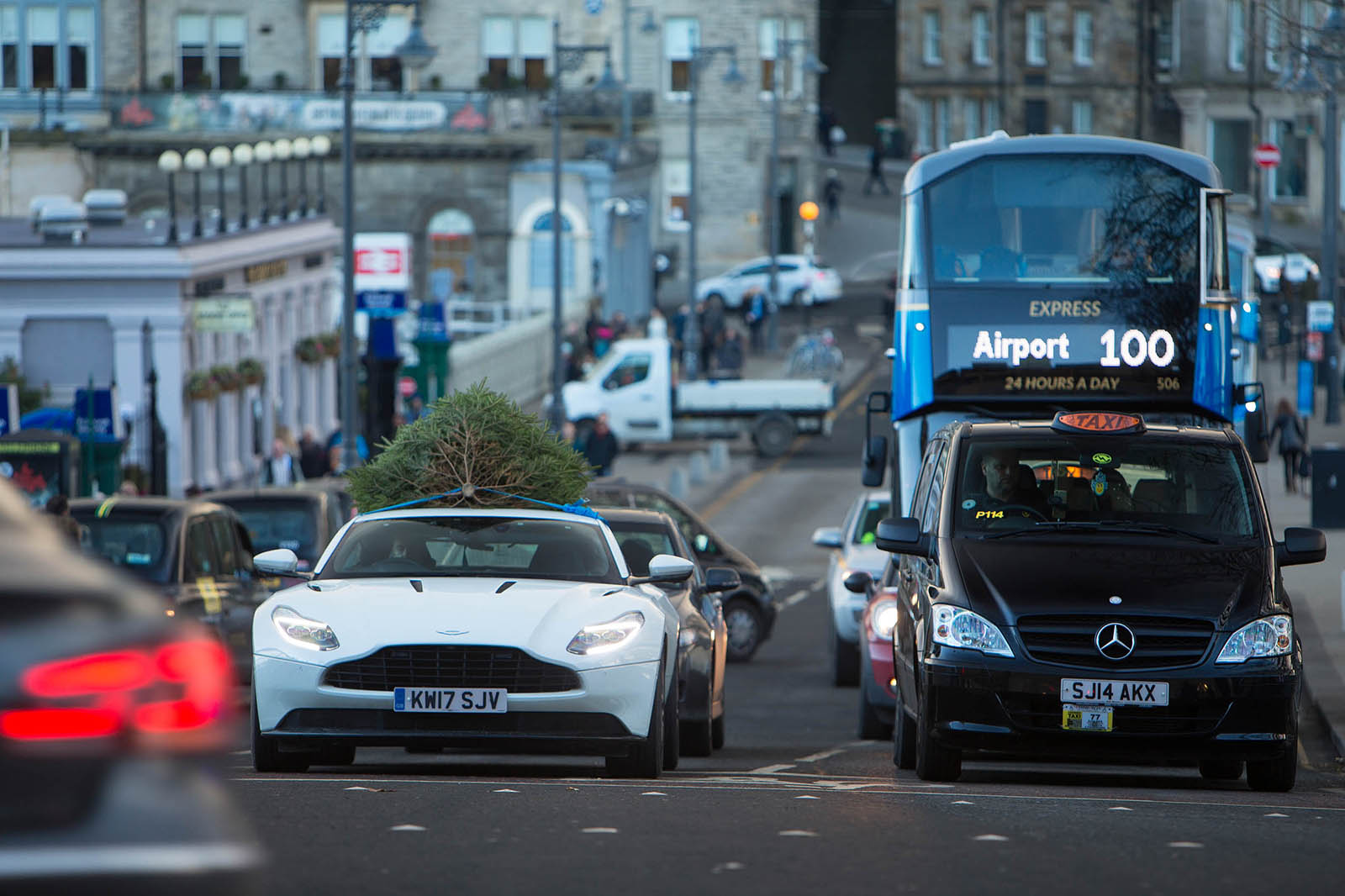 Soon we're rolling along Berwickshire's sunlit moors and pause at Chirnside to pay our respects to local farmer-racer Jim Clark, who claimed third at Le Mans in an Aston DBR1 for the over-achieving Border Reivers team. Space on his headstone hints at the triumphs he might have added to the 25 Formula 1 wins, two world championships and Brickyard victory listed thereon had he not died in a racing accident at Hockenheim at the age of just 32. A much expanded museum honouring 'the quiet champion' in nearby Duns is under development for 2018.
Once in England, we cross the River Tweed on ancient Berwick Bridge beneath a huge storm cloud, then navigate the windswept, hail-strewn and partially submerged tidal causeway to Holy Island to grab Autocar editor Mark Tisshaw a stocking filler of Spiced Lindisfarne Mead. (Which I've yet to receive, by the way – Ed.) 
Meanwhile, Robert the Spruce is taking a battering but holding steady. Seeing Papior get equally lashed as he squints through his viewfinder, I'm glad of the warmed-through, leather-clad cabin. Although the interior is much improved, Aston still can't quite match the best for finish, and oddment storage is laughably scarce, but there's still ample luxury in here. Resigned to the poor weather, I give the DB11 all the workout that conditions allow on some Northumbrian B-roads. The rear tyres hiccup even in fourth, but you don't need to use all this car's power to enjoy it. The front axle honours the progressively weighted steering's keen responses, and any post-apex shimmies at the rear are manageably gentle, and roll very neatly contained.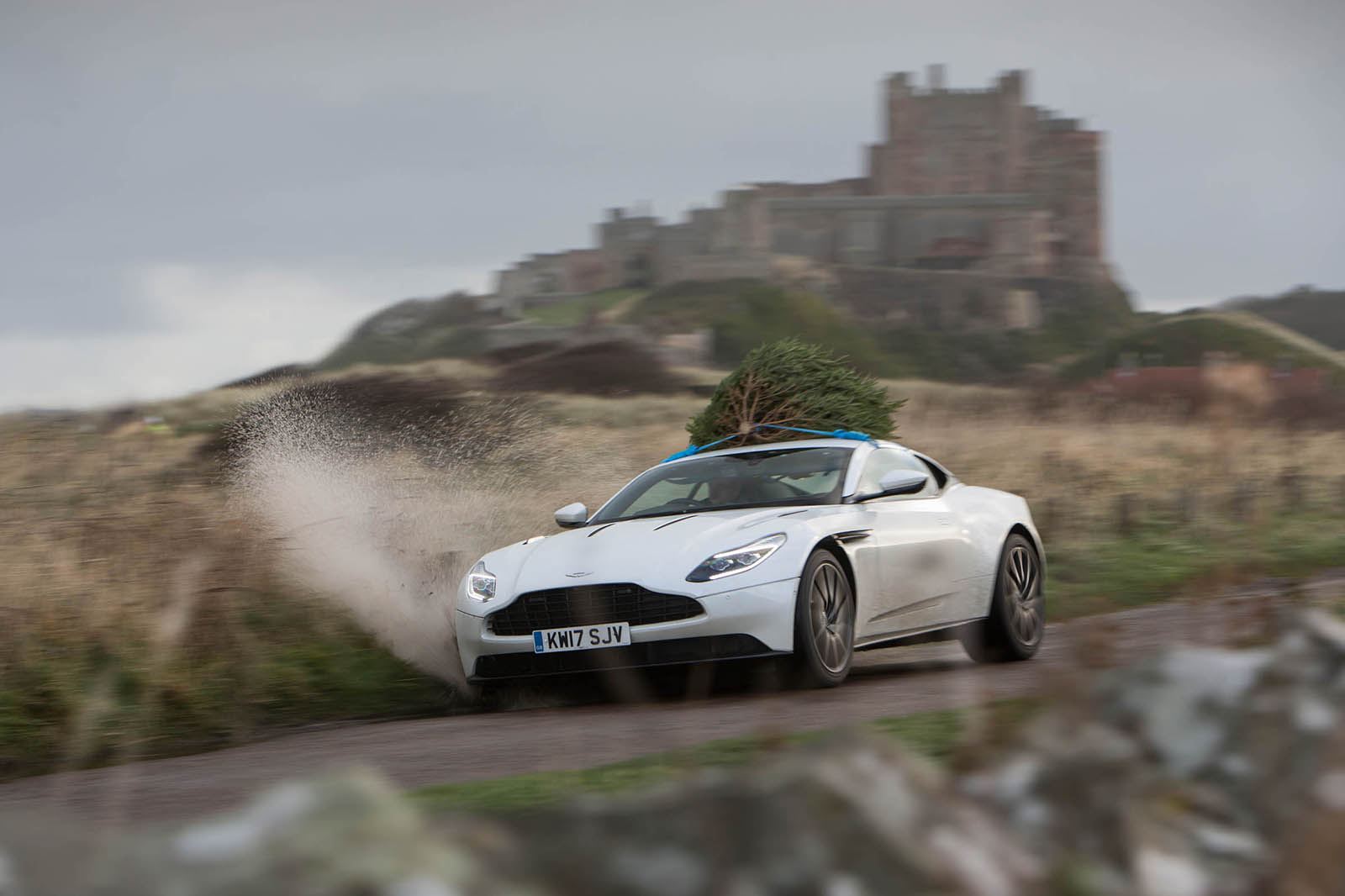 Even in the most extreme Sport Plus mode, paddle-prompted downshifts could come quicker but the shifts themselves are snappy. The big, lusty engine dominates, though. Sturdy from 1500rpm then riotous from 2500rpm to the roaring 7000rpm redline, it's a huge performer, with enough swept volume to help the V12 all but shrug off turbo lag.
A vista-hunting diversion to the North York Moors has us slithering up and down snow-bound lanes before we turn back – a decision validated when we see a Suzuki Vitara feasting on a hedge – and we press on to an overnight stop by the Humber estuary ahead of our rendezvous with the big tree.
Next morning, the MD of DFDS Seaways, Sean Potter, explains that his company ships the tree from Norway to its 150-acre base at Immingham Docks before handing over to logistics partner Beck & Pollitzer for the journey to Trafalgar Square in London. It's all done for free.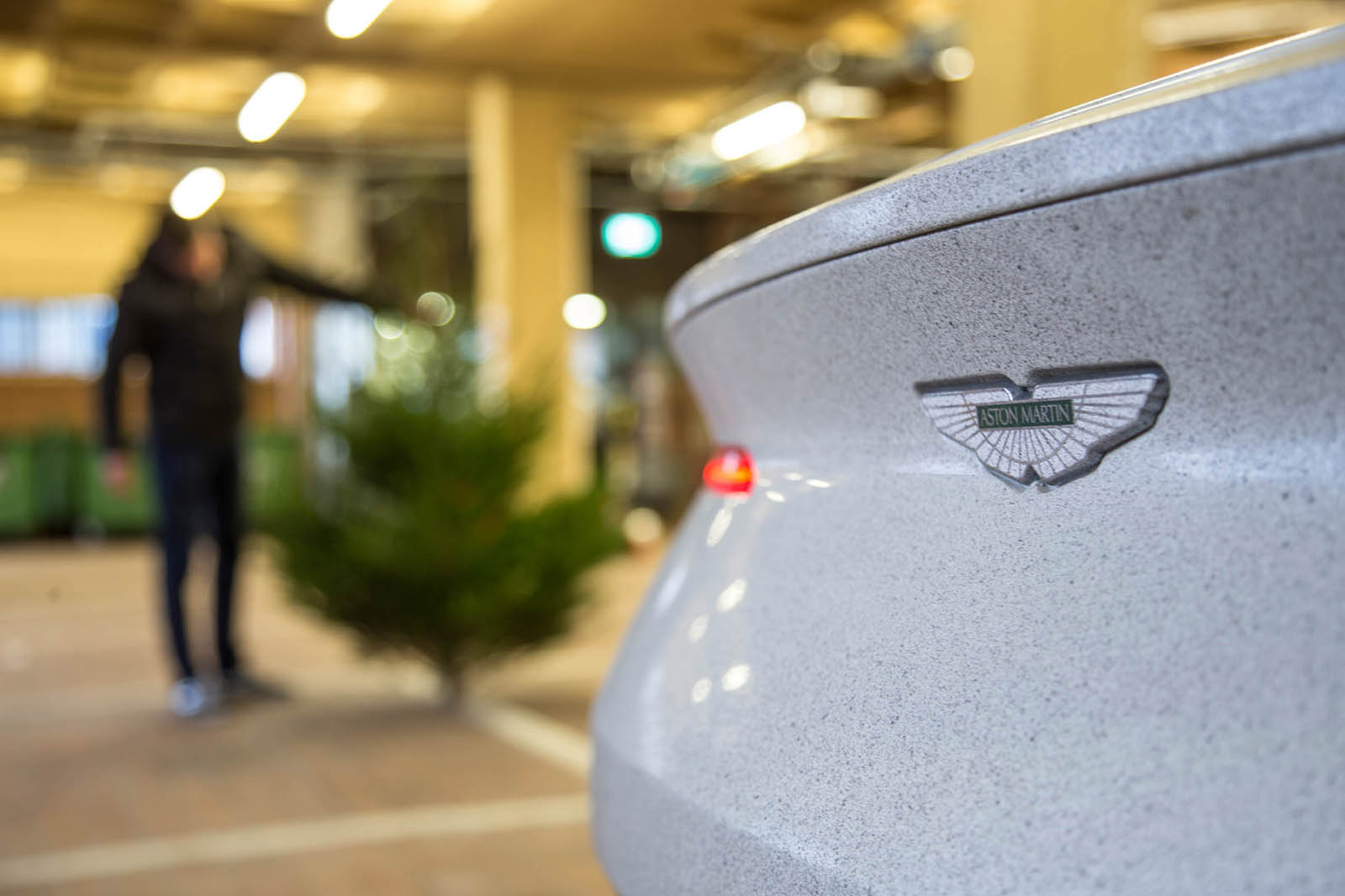 Not to be outdone by their flat-packing Swedish neighbours, the Norwegians remove the lower branches for easier shipping before they are re-mounted in drilled holes once in London. On the dockside, the 69ft payload is slowly lifted by crane onto an extendable trailer, which adjusts to fit the tree and its custom-made wooden cradle. It's secured and driven smartly away as another huge vessel approaches the dock.
We set off behind it like a pilot fish shadowing a shark, then strike for home. Cars manoeuvre around us for a closer look and a wave, and a fuel stop brings more comments. "A Christmas tree strapped to your Aston? Zero ****s given!" "It's… it's just not right." And my favourite, from a wary-looking cashier as we buy a green Magic Tree knock-off: "You must really like Christmas trees."
It's late afternoon as we arrive at the Autocar office. Robert has slipped back a little, like an ill-fitting, green coupé toupée. But once unstrapped, his branches proudly spring out, and despite enduring more than 750 miles of gritted roads, storms and congestion, he's even giving off a delicious evergreen scent. We stand him in the office's most glamorous pitch to await decoration.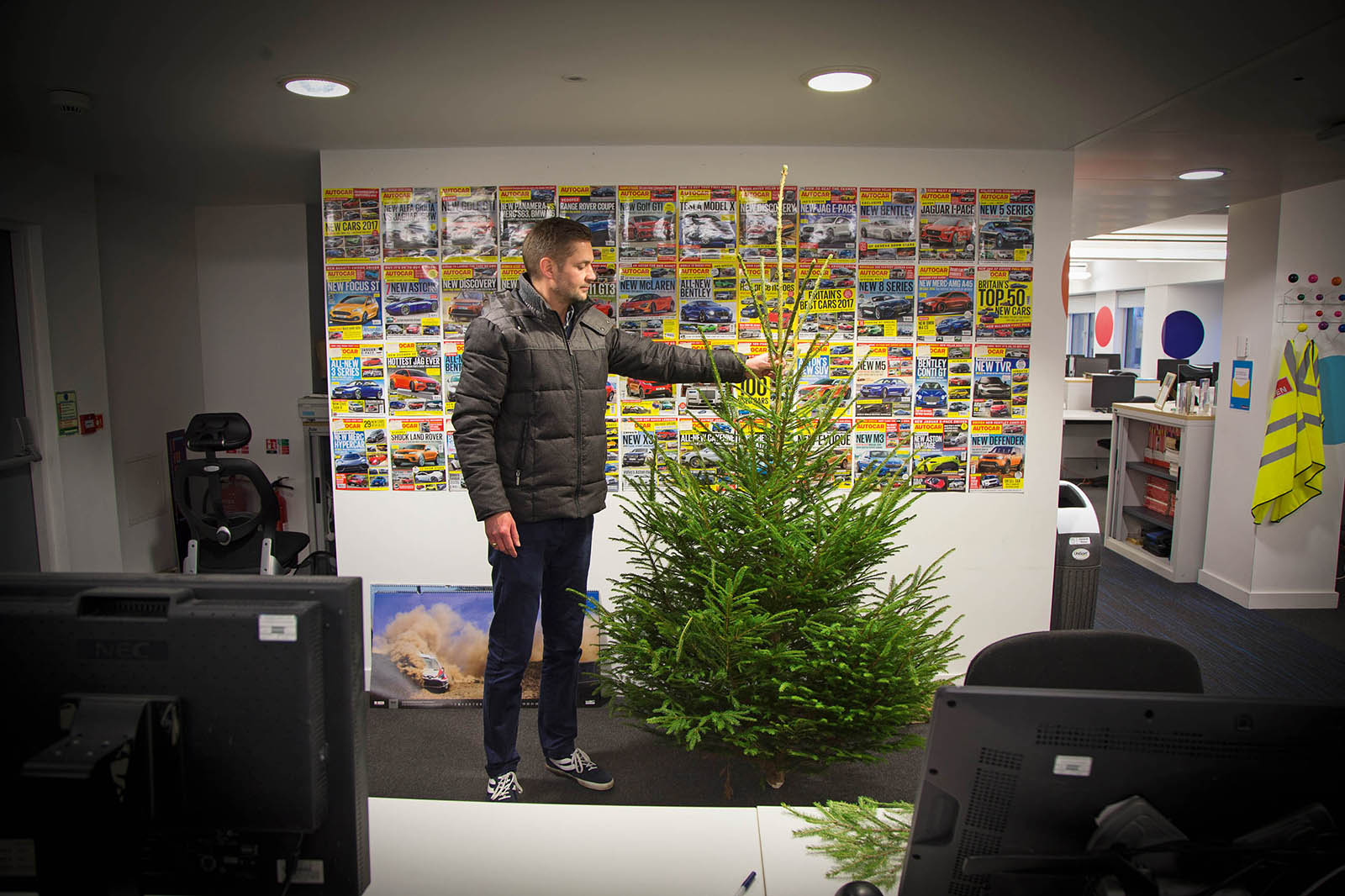 The tree has handled our festive grand tour incredibly well, then. And despite wearing the wrong shoes, so has the Aston. It's been charismatic, comfortable, fast and fun. And most important – FAO Santa – we've proved it fits beneath a Christmas tree.
Taking the trunk road
Our 759-mile route began in Argyll on Scotland's west coast and, after hugging Loch Lomond, headed east to Edinburgh, before crossing the English border in Berwickshire. Southbound progress brought stops on the Northumbrian coast and North York Moors, then on to Immingham in Lincolnshire, to rendezvous with the big tree from Oslo, and finally on to London.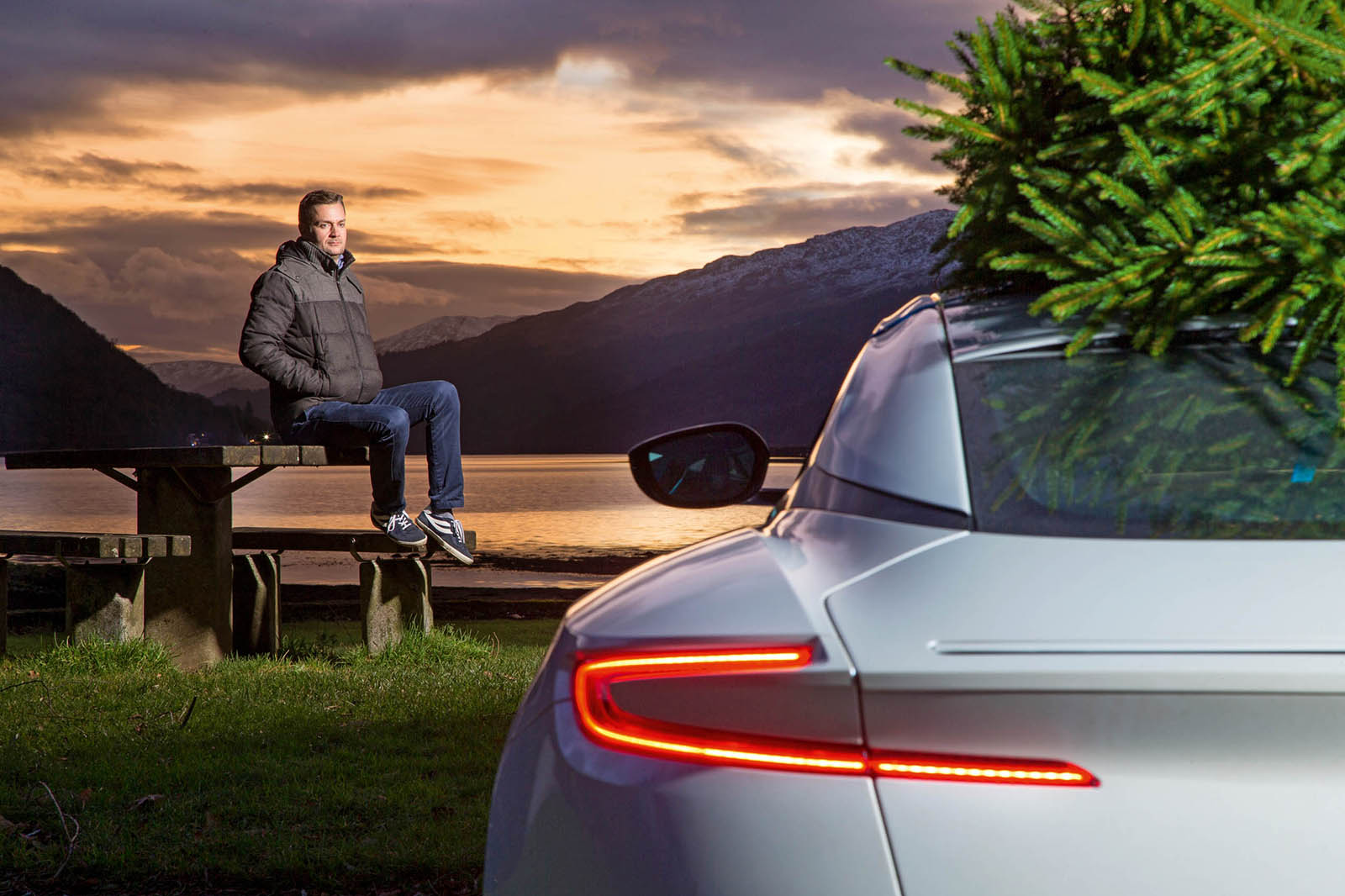 Happy Christmas, war is over 
The annual gift of a giant Christmas tree from Norway to the UK began in 1947 in thanks for Britain's support during World War 2. When the Nazis invaded in 1940, King Haakon VII escaped to London, which became the exiled Norwegian government's wartime base.
This year's 69ft Norway spruce is roughly as old as the tradition itself and has been specially tended over a number of years. It was felled last month following a cutting ceremony outside Oslo involving the city's mayor and the Lord Mayor of Westminster, and officially illuminated in Trafalgar Square on 7 December.