Ferrari's new V8 GTC4 Lusso T has the noise and poise to excite, but as a long-distance tourer it makes a less convincing case for itself
What is it?
This is the recently facelifted and rather clumsily relabelled Ferrari FF in new, smaller engined form as a lower-priced, less complex alternative to the four-wheel drive V12 GTC Lusso. It's the first time Ferrari has ever offered a choice of engines in one bodystyle, this slightly more affordable GTC shorn of four cylinders, the front-wheel drive element of the V12's all-wheel drive transmission and 88bhp.
Gains include twin turbos, intercoolers and extensive plumbing that explain a 55kg weight saving more modest than might be expected, a potentially more entertaining 46:54 front:rear weight distribution than the V12's 47:53 apportionment and the surprising bonus of a 47lb ft net gain in torque, the 561lb ft peak more generously spread between 3000 and 5250rpm. There's also a 32% fuel economy gain, while CO2 emissions fall substantially from 350g/km to 265g/km.
The GTC V8 (why didn't they call it that?) is also less expensive at £199,285, a price few will pay given the scope for rampaging through an extensive options list that includes an illuminating acre of panoramic roof, an instrument screen to terrify your passenger and multiple chances to demonstrate the scale of your wealth through the medium of carbonfibre.
However, the essence of the GTC remains unchanged, its unusually proportioned body providing impressively generous space for four, a powered hatchback, folding 40:20:40 rear seats and a not quite so generous boot. Rear-wheel steering, an e-differential and Ferrari's driver skills-enhancing side slip control are among your arsenal for Tarmac attacks, along with a fine set of forged Y-spoke 20in rims, perfectly positioned paddleshifts and Ferrari's excellent manettino which does not include a track setting for this grand touring car.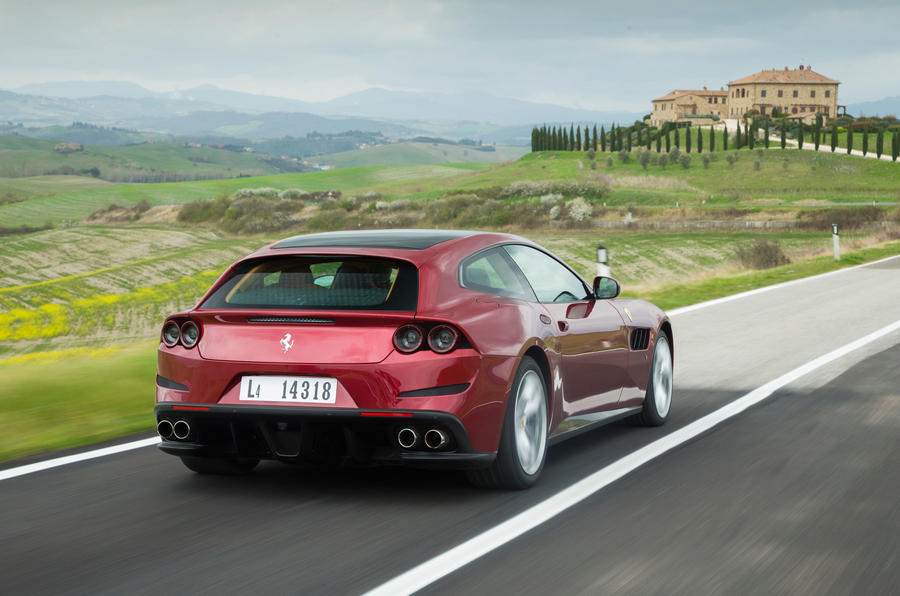 What's it like?
If you're wondering whether the removal of four cylinders would choke the GTC's go, worry not – it will smash 62mph in 3.5sec (3.4sec for the V12) and double that speed in just 7.3sec for a 10.8sec assault on 125mph. That should be fast enough for most. You'll hunt hard to uncover any turbo lag too, the V8's rev-happy demeanour and an intelligently marshalled seven-speed dual-clutch auto masking any low-rev indolence from the twin-scroll turbos. The transmission's throttle-blipping downshifts and tremor-free upshifts are also a joy, although the 'box is sometimes slow to kickdown when left in automatic mode, even with the manettino set to sport.
One potential benefit of the lighter V8 and its altered weight distribution is greater agility – which is duly delivered. Steering geared high enough to demand acclimatisation makes the GTC feel almost nervously agile at first, but familiarity and your rising cornering speeds uncover terrific front-end grip – rear-wheel steering helps – and satisfying precision. Grip from the other end of a lengthy wheelbase is somewhat less secure if you're eager, the ESC warning light quite often flashing, its brain noticeably staunching the power supply in tight turns. Turn the ESP off and you'll enjoy more instant supplies of corner-exiting thrust, and the occasional drift with it. Wet weather will doubtless turn those drifts regular and potentially palpatory, given the GTC's size.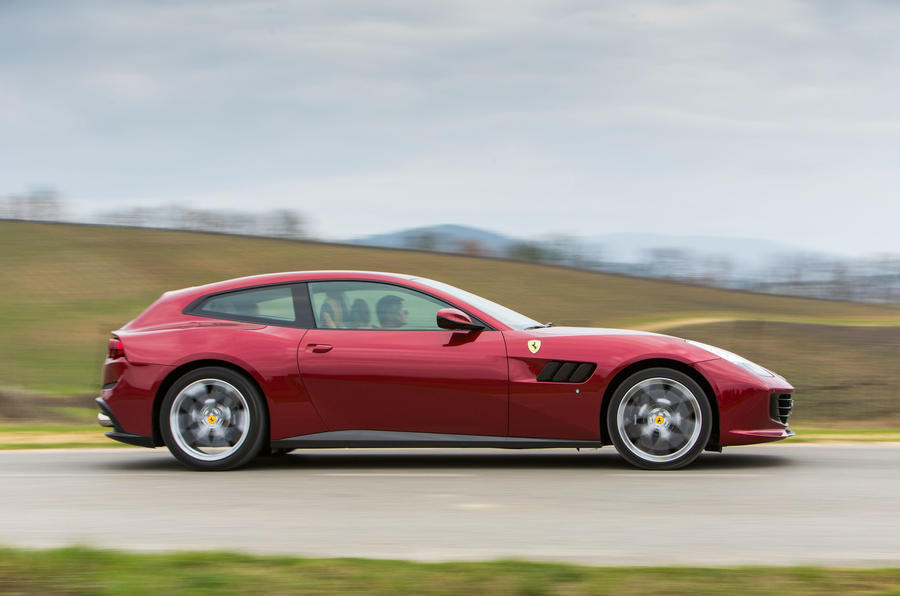 Despite this, it's easy to build up an immensely satisfying rhythm vaulting from one corner to the next, your rising pace sometimes prompting you to question the effectiveness of the brakes despite their (standard) carbon-ceramic hugeness. That said, they never showed signs of actually beginning to quit, but they could provide more biting reassurance. Your wide-eyed passengers will feel more reassured still if you keep both hands on the wheel at all times, the GTC's urge to dart down the dip of a falling camber prompting the occasional lunge for the edge of the road and beyond if you don't get a grip.
Run in comfort with the electronic dampers in their softest mode and you'll sometimes encounter unexpected float, easily banished by firming them up with a stab of a steering wheel button. You'll stab the inventively unusual indicator buttons a lot more often, not least because they need a firm prod to fully engage. But difference like this is good. Less good is the GTC's high-speed cruising refinement, an admittedly turbulent autostrada uncovering a ride lacking long-travel absorption, and more of those camber-triggering jinks. The suspension is not the quietest either which is less of a surprise given the GTC's agility and tyre width.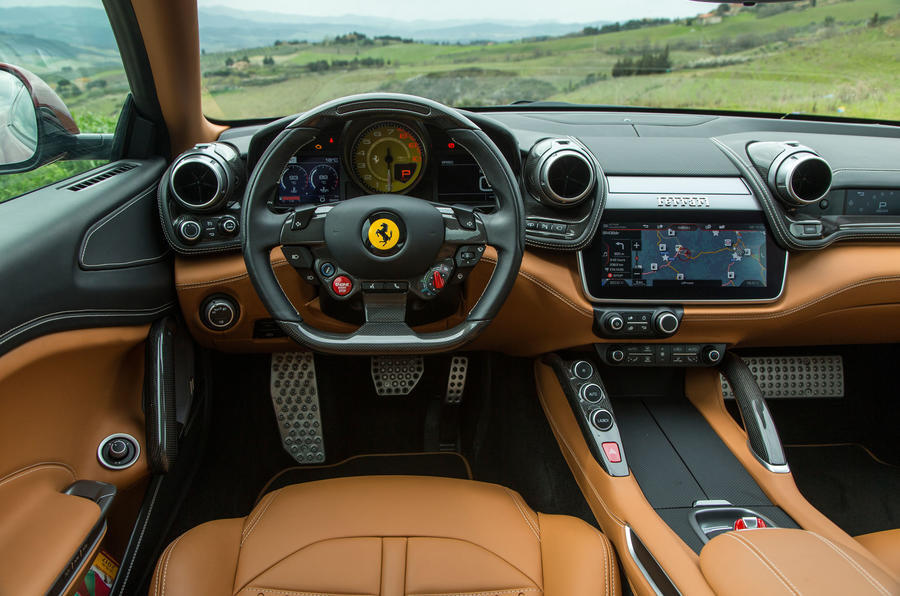 Should I buy one?
GTs – and GTCs – are supposed to be lightly practical, civilised mile-crushers of athletic bent and eye-arresting elegance. This Ferrari delivers thrillingly on the agility, impressively on comfortable passenger carrying – if not their luggage – and it certainly makes an arresting sight with the scale of its cab-rear, long-bonnet masses. But it's certainly not Ferrari's most elegant GT, nor its most space efficient – the mid-front-engine V8 almost looks lost in its bay – and it certainly isn't as relaxing a long-distance machine as the Bentley Continental Maranello cites as a competitor.
But as a thrilling ride for four, it's almost unparalleled. Unless you're planning regular long-distance trips to your villa/yacht/business, this V8 GTC is a terrific drive. If it were smaller, prettier and a less busy cruiser, it would be brilliant.
Ferrari GTC4 Lusso
Location Monteriggioni, Italy; On sale Now; Price £199,285; Engine V8, 3855cc, twin turbo; Power 602bhp at 7500rpm; Torque561lb ft at 3000-5250rpm; Gearbox 7-spd dual-clutch automatic; Kerbweight 1865kg; 0-62mph 3.5sec; Top speed 199mph; Economy 24.8mpg; CO2/tax band 265g/km, 37% Rivals Bentley Continental GT, Mercedes S63 Coupé.